Song Information
Edit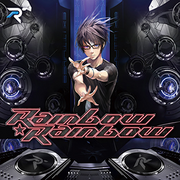 Artist: DJ UTO vs. Starving Trancer feat. Mayumi Morinaga
Composition: Kazuhiro Kato, Yusuke Ceo
Arrangement: Ryutaro Nakahara
Vocals: Mayumi Morinaga
Album: EXIT TRANCE PRESENTS SPEED アニメトランス BEST 7
BPM: 160
Length: 1:30
First Appearance: DanceDanceRevolution (2013)
同じ瞬間 同じ空
ずっとみつめていたいから

新しいときが近づいた
胸の鼓動 解きほどいてく
夜空に輝く未来地図
まよいながら惹かれ探し合う

永遠の罪まみれた闇
狂おしい 真実の意味
想いは煌く星たちの
光に変わり闇を照らし合う

瞳を閉じて 解き放たれた
心の扉 感じあう

温もり残して 抱きしめてねそう強く
この時代を超えてずっと包んでいて
Song Connections / Remixes
Edit
ずっとみつめていて (Ryu☆Remix) uses the album cover of Ryu☆'s 4th album, Rainbow☆Rainbow.
ずっとみつめていて (Ryu☆Remix) originally appeared in EXIT TRANCE PRESENTS SPEED アニメトランス BEST 7. It later appeared on Ryu☆'s 4th album Rainbow☆Rainbow.
ずっとみつめていて (Ryu☆Remix) has a large difficulty level gap of 6 between its Beginner and Single Basic charts.
ずっとみつめていて (Ryu☆Remix) received a new Challenge chart on July 18, 2013.

ずっとみつめていて (Ryu☆Remix) is currently the only song in the DDR arcade series (minus the 2ndMIX song remixes) that has a chart rated Level 15.
Difficulty & Notecounts
Edit
Game
SP Difficulty
DP Difficulty
BEG
BAS
DIF
EXP
CHA
BAS
DIF
EXP
CHA
Notecounts/Freeze Arrows
59/0
185/9
252/10
352/7
463/23
172/15
245/16
322/8
445/11
DDR (2013)→Present
1
7
9
12
15
7
10
12
15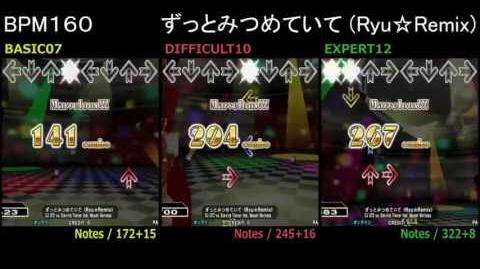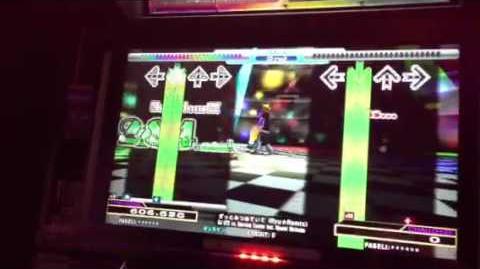 Ad blocker interference detected!
Wikia is a free-to-use site that makes money from advertising. We have a modified experience for viewers using ad blockers

Wikia is not accessible if you've made further modifications. Remove the custom ad blocker rule(s) and the page will load as expected.