For the character of the same name, see Zero.
Song Information
Edit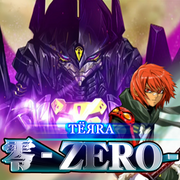 Artist: TËЯRA
Composition/Lyrics: NAOKI MAEDA
Arrangement/Vocals: Junko Karashima
BPM: 90-180
Length: 1:52
First BEMANI Appearance: beatmaniaIIDX 14 GOLD
First DDR Appearance: DanceDanceRevolution X
Other Appearances:
To be added later.
Song Connections / Remixes
Edit
The DanceDanceRevolution series uses a shorter version of 零 - ZERO -.
A long version of 零 - ZERO - can be found in TËЯRA's album ЁVOLUTIΦN.
零 is the kanji for "rei" or "zero" (0).

Coincidentally, there is also a character in the DanceDanceRevolution series named Zero.

In the Japanese PS2 release of DanceDanceRevolution X and North American PS2 release of DanceDanceRevolution X2, 零 - ZERO -'s background video has been altered to remove blood from certain points in the video.
In the North American / European releases of the DanceDanceRevolution series, 零 - ZERO -'s title has been simplifed to ZERO.

零 - ZERO - received a new banner in DDR X2 US CS, with the simplified title.
In the international iTunes release of TËЯRA's album ЁVOLUTIΦN, 零 - ZERO -'s title has also been simplified to ZERO.
Song Production Information
Edit
Untranslated.
Difficulty & Notecounts
Edit
To be updated.
Ad blocker interference detected!
Wikia is a free-to-use site that makes money from advertising. We have a modified experience for viewers using ad blockers

Wikia is not accessible if you've made further modifications. Remove the custom ad blocker rule(s) and the page will load as expected.