Song Information
Edit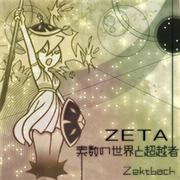 Artist: Zektbach
Composition/Arrangement: Zektbach
Lyrics/Vocals: Puchiichika (プチーチカ)
Genre: IDM
Video Type: Stage (X2→Present), None (DDR II)
BPM: 90-180
Length: 2:07 (pop'n music, REFLEC BEAT, and DDR (short)), 2:14 (IIDX), 4:21 (long)
First BEMANI Appearance: pop'n music 15 ADVENTURE
First DDR Appearance: DanceDanceRevolution X2
Other Appearances:
beatmaniaIIDX 18 Resort Anthem
REFLEC BEAT colette -Summer-
(対訳)
古き書 まるで夢を見ているようだ
夢中になる 秘術
まっすぐ行きなさい 古き都へ
魅力的…雰囲気
琥珀…月

「知的な 導かれし蝶よ」

2 3 5 7 ……こんな世界
夢から醒めたくなかった
眩暈がする
Song Connections / Remixes
Edit
A long version of ZETA~素数の世界と超越者~ can be found on Zektbach's first album, The Epic of Zektbach -Ristaccia-. This long version also appears on DanceDanceRevolution II.

The beatmaniaIIDX version of ZETA~素数の世界と超越者~ is a cut of this long version.

Zeta, La Chanson is an orchestral version of the song, and it appears on the same album. The arrangement and vocals are done by Osamu Kubota.
An arranged medley of ZETA~素数の世界と超越者~, neu, and 天庭 by Osamu Kubota, titled Le Swing (天庭・ZETA~素数の世界と超越者~・neu), can be found on the V-RARE SOUNDTRACK 17: pop'n music portable album.
素数の世界と超越者 is romanized as sosuu no sekai to chouetsusha, and is translated to "he who transcends the world of prime numbers".

The North American and European versions of DanceDanceRevolution X2 and DanceDanceRevolution II translate the Japanese subtitle to The World of Prime Numbers and the Transcendental Being.

ZETA~素数の世界と超越者~ is 2:07, or 127 seconds in length, which is another prime number.

All of ZETA~素数の世界と超越者~'s charts's notecounts are prime numbers (113, 227, 383, 613, 211, 353, and 563), further referencing the song's subtitle.
ZETA~素数の世界と超越者~'s Freeze Arrow counts are also prime numbers (0, 13, 47, 37, 19, 13, and 19).

IDM stands for Intelligent Dance Music.
In the arcade DDR games, ZETA~素数の世界と超越者~ has a special background video, which is mostly background clips taken from Dance Dance Revolution EXTREME and displayed on a dance stage rather than fullscreen.
ZETA~素数の世界と超越者~'s English title, ZETA~The World of Prime Numbers and the Transcendental Being~, currently holds the record as the longest song title in English (at 61 characters, including numbers, spaces, and letters) in the DanceDanceRevolution series as well as in any BEMANI game, beating London Affairs Beckoned With Money Loved By Yellow Papers.'s previous record of 58 characters. The 61 characters in the song's title is a prime number, which is a reference to the song's subtitle.
∑, ZETA~素数の世界と超越者~'s pop'n music rival character, appears on the song's jacket.
ZETA~素数の世界と超越者~'s Single Expert chart has the highest notecount of any chart rated Level 15 at 613 notes.
ZETA~素数の世界と超越者~'s background video was removed on DDR (2013) due to technical issues. However, it was later readded in an update.
Difficulty & Notecounts
Edit
Game
SP Difficulty
DP Difficulty
BEG
BAS
DIF
EXP
CHA
BAS
DIF
EXP
CHA
Notecounts/Freeze Arrows
113/0
227/13
383/47
613/37
-
211/19
353/13
563/19
-
DDR X2→Present
3
6
11
15
-
6
9
14
-
DDR II
3
6
11
15
-
6
9
14
-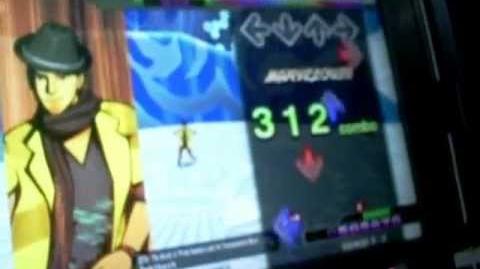 Ad blocker interference detected!
Wikia is a free-to-use site that makes money from advertising. We have a modified experience for viewers using ad blockers

Wikia is not accessible if you've made further modifications. Remove the custom ad blocker rule(s) and the page will load as expected.