Yuni Berth



Debut

DDR 4thMIX

Birthday

June 30

Age

14 (DDR 4thMIX-Extreme 2)
16 (DDR SuperNOVA-present)

Height

5'2"

Weight

113lbs

Blood Type

O+

Hometown

New York City, New York (USA)

Favorite Things

Junk food
Dancing
Sneaking out

Hates

Life inside her mansion

Hobbies

Tasting junk food
Dancing
Yuni Berth
(ユニ) is a rich girl raised with proper manners, but what she really loves is junk food, and she hates living in her big mansion. She frequently sneaks out of the mansion to get a bite to eat, to go dancing, or go hang out with
Emi
.
Games in order of appearance:
Design and Conception
Edit
Here is what the designers have to say:
"A MAID outfit?! You've got to be kidding! But the more we worked on her, the more confident Yuni looked in those clothes. Yep, it works. In fact, maybe a little too well! That's what makes Yuni so great." - DDR X
Character and Personality
Edit
Though Yuni has no dislike for any of the dancers, she is mostly seen with Alice and Emi. Hating to stay trapped in her mansion, she tries to have fun by sneaking away from her bodygaurd to hang out with her friends. She loves fashion, and her outfit is designed by famous designer. Other times, she gains inspiration for her outfits from what she sees; for example, her X2 outfit was inspired by a Japanese schoolgirl outfit she saw.[1]
Street Master Mode
Edit
Yuni finally got her wish of a fast food meal but she still likes to sneak out once in a while. So next time you see a girl with blond hair and pigtails eating fast food, it might just be Yuni! If you do see her, make sure you tell her bodyguard!
Yuni's full name is a pun on "universe".
Yuni shares some similarities with Lili from the Tekken fighting game series: they both are blondes, live in mansions, and can be considered rich brats.
In the game Tekken Tag Tournament 2, it's possible to make Yuni's Supernova 2 JP Costume.
Yuni's DDR X2 outfit also has "X2" written on it.
Yuni also shares similarities with Tsumugi Kotobuki from K-ON! series:they both are wealthy,blondes,and same tall.The only differences is they behavior:Yuni always boring in mansion while Tsumugi always try something odd.
Yuni appears in the opening sequences of Disney's Wreck-it Ralph.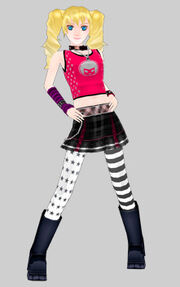 References
Edit