Song Information
Edit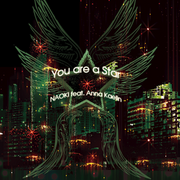 Artist: NAOKI feat. Anna Kaelin
Composition: NAOKI MAEDA
Arrangement: You Takigawa
Lyrics: Brenda Burch
Vocals: Anna Kaelin
BPM: 155
Length: 1:32
First Appearance: DanceDanceRevolution X2
Other Appearances:
It's 5am now, time to get out of bed
Another day is ready to start again
The shower's running, coffee is burning hot

Get out the door in time for the train
Cell phone is ringing with messages coming in
The traffic's jamming, let's see who is gonna win
Yeah, the game is on if you are strong
And you want to play

No one said the race would just be a piece of cake
Work your way to the top
You've got to put in the time, pay your dues
The corner office is there waiting for you

Yeah, yeah, you are a star
There's no mistaking you will make it to the end
I know you've got what it takes to believe in yourself
You will never give in, you're a star
No one else in the world could replace the way you smile
The way you look when you're inspired
I know you will shine no matter what you face
Cuz you are a star
Song Connections / Remixes
Edit
None.
You are a Star, along with KIMONO♥PRINCESS, marks Anna Kaelin's debut in BEMANI.
You are a Star is one of the new default Konami original songs on DanceDanceRevolution X2.

Its Challenge chart is unlocked once you have reached Enjoy Level 58.

You are a Star was the second unlock of MISSION Stage 03 on DDR Dance Wars. To unlock, you had to accomplish these objectives:

Clear PASSION OF LOVE on Basic with 820,000 points or higher.
Clear DYNAMITE RAVE on Basic with a B or better.
Clear Silver Platform - I wanna get your heart - on Basic with 800,000 points or above.
Clear DYNAMITE RAVE on Difficult with 720,000 points or above.

You are a Star has different Beginner and Basic charts on DDR HOTTEST PARTY 3 and MUSIC FIT.
On DDR HOTTEST PARTY 3, the DDR stage is pre-selected and cannot be changed. The reason of this is because of the dance routine is performed on the dance pads like the Lesson by DJ songs.

Unlike the Lesson by DJ songs, no chart corresponds with the dance routine.
Difficulty & Notecounts
Edit
Game
SP Difficulty
DP Difficulty
BEG
BAS
DIF
EXP
CHA
BAS
DIF
EXP
CHA
Notecounts/Freeze Arrows
73/0
108/24
208/34
352/26
391/32
166/5
212/13
318/7
367/11
DDR X2→Present
2
4
8
12

13

6
8
12

13

DDR X2 CS
2
4
8
12
13
6
8
12
13
DDR HOTTEST PARTY 3/MUSIC FIT
☆2
☆3
☆6
☆9
-
-
-
-
-
DDR S+
2
4
8
12
-
-
-
-
-
DDR Dance Wars
2
4
8
12
-
-
-
-
-
Ad blocker interference detected!
Wikia is a free-to-use site that makes money from advertising. We have a modified experience for viewers using ad blockers

Wikia is not accessible if you've made further modifications. Remove the custom ad blocker rule(s) and the page will load as expected.