Song Information
Edit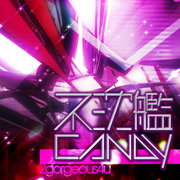 Artist: Risk Junk
Composition/Arrangement: Risk Junk
Video Type: Stage (X2→Present), None (DDR II)
BPM: 94-188 (DDR), 188 (IIDX)
Length: 2:03
First BEMANI Appearance: beatmaniaIIDX 16 EMPRESS
First DDR Appearance: DanceDanceRevolution X2
Other Appearances:
None.
Song Connections / Remixes
Edit
不沈艦CANDY is considered a sequel to CANDY GALY from beatmaniaIIDX 14 GOLD, also by Risk Junk.
不沈艦CANDY is one of the three Sweets ONE MORE EXTRA STAGE songs for beatmaniaIIDX 16 EMPRESS.
不沈艦CANDY is romanized as fuchinkan CANDY literally means "Unsinkable Battleship Candy."

In the North American and European versions of the DanceDanceRevolution games it appears in, 不沈艦CANDY is known as YELLOW CANDY. However, the album art is left in Japanese as-is.
On the beta version of North American version of DDR X2, 不沈艦CANDY was romanized as fuchinkan CANDY.

不沈艦CANDY's beatmaniaIIDX background video is displayed on a stage when played on any arcade DDR game. On any console version, the video is not present.
While 不沈艦CANDY's BPM in beatmaniaIIDX is simply 188, the DDR version slows down to 94 in the middle, then speeds back up to 188 for the rest of the song.
不沈艦CANDY's background video was removed from DDR (2013) due to technical issues. However, it was later readded in an update.
Background Video
Edit
Difficulty & Notecounts
Edit
Game
SP Difficulty
DP Difficulty
BEG
BAS
DIF
EXP
CHA
BAS
DIF
EXP
CHA
Notecounts/Freeze Arrows
110/0
228/15
329/31
570/14
-
208/15
313/15
514/16
-
DDR X2
2
6
9
13
-
5
8
13
-
DDR X3 VS 2ndMIX→Present
2
6
9
↑14
-
5
8
↑14
-
DDR II
2
6
9
13
-
5
8
13
-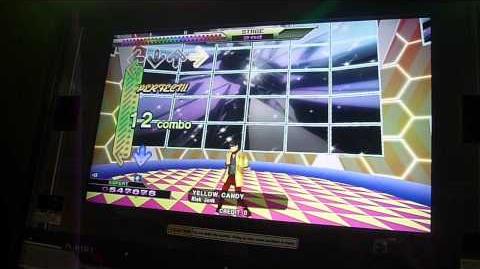 Ad blocker interference detected!
Wikia is a free-to-use site that makes money from advertising. We have a modified experience for viewers using ad blockers

Wikia is not accessible if you've made further modifications. Remove the custom ad blocker rule(s) and the page will load as expected.