Song Information
Edit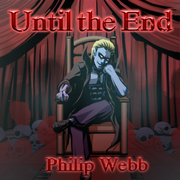 Artist: Philip Webb
BPM: 172
Composition: NAOKI MAEDA
Vocals: Philip Webb
First Appearance: DanceDanceRevolution (2010)
First AC Appearance: DanceDanceRevolution X3 VS 2ndMIX
Length: 1:47
Ho usato a vivere una vita normale,

Quello era pieno di ricco amore,

Ma allora vedo c'è l'amore nell tua occhio,

Puoi sentire lo stesso?

Respondi mi

Tu luce il mio mondo più,

Terrò tu fino a il fine.

Puoi sentire questo amore cresita più?

L'amore non ferma fino a il fine

Tu luce il mio mondo più,

Terrò tu fino a il fine.

Puoi sentire questo amore cresita più?

Ti amore per sempre.

L'amore non ferma fino a il fine

Song Connections/Remixes
Edit
None.
Until the End is an Enjoy Level 85 unlock on DanceDanceRevolution X3 VS 2ndMIX.
Until the End's Double Basic chart has the most Freeze Arrows of any Double Basic chart with 83 Freeze Arrows.
DIfficulty & Notecounts
Edit
Game
SP Difficulty
DP Difficulty
BEG
BAS
DIF
EXP
CHA
BAS
DIF
EXP
CHA
Notecounts/Freeze Arrows
110/0
138/22
270/30
387/8
-
227/83
272/30
387/8
-
DDR X3 VS 2ndMIX→Present
3
4
9
12
-
8
10
13
-
DDR SuperNOVA2 CS
☆3
☆5
☆7
☆9
-
-
-
-
-
Official Song Comment
Edit
By asking a great male opera vocalist sing, this song became one of
a kind.
I think there will be people who will like and dislike this song due to its
uniqueness but
I will be glad if people can dance to this when they want to be
immersed in this atmosphere.

(NAOKI MAEDA)
Ad blocker interference detected!
Wikia is a free-to-use site that makes money from advertising. We have a modified experience for viewers using ad blockers

Wikia is not accessible if you've made further modifications. Remove the custom ad blocker rule(s) and the page will load as expected.