Song Information
Edit
Artist: 猫叉Master
BPM: 139
Composition/Arrangement: Naoyuki Sato
First Appearance: DanceDanceRevolution X3 VS 2ndMIX
Length: 1:54
None.
Remixes/Song Connections
Edit
None.
Tribe marks 猫叉Master's debut in the DanceDanceRevolution series, as well as his first original song for the series.
Tribe is unlocked at Enjoy Level 15 on DanceDanceRevolution X3 VS 2ndMIX.
Official Song Comment
Edit
Untranslated.
Difficulty & Notecounts
Edit
DanceDanceRevolution difficulty rated from 1 to 20.
Game
SP Difficulty
DP Difficulty
Beginner
Basic
Difficult
Expert
Basic
Difficult
Expert
Notecounts/Freeze Arrows
104/1
166/9
243/14
312/5
149/9
238/13
310/5
DDR X3 VS 2ndMIX→Present
2
5
7
10
4
7
10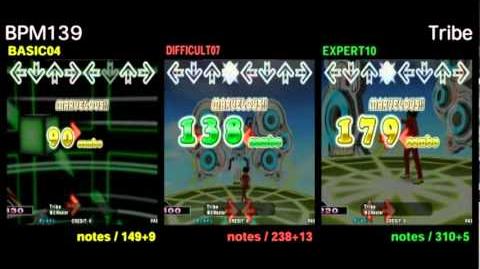 Ad blocker interference detected!
Wikia is a free-to-use site that makes money from advertising. We have a modified experience for viewers using ad blockers

Wikia is not accessible if you've made further modifications. Remove the custom ad blocker rule(s) and the page will load as expected.