Song Information
Edit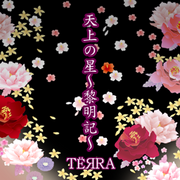 Artist: TЁЯRA
BPM: 85-170
Composition/Lyrics/Vocals: jun
Arrangement: NAOKI MAEDA
pop'n music Genre: HYPER JAPANESQUE 3 (ハイパージャパネスク3)
pop'n music Character: KIKYO [18]
First BEMANI Appearance: pop'n music 18 せんごく列伝
First DDR Appearance: DanceDanceRevolution X3 VS 2ndMIX
Length: 1:47
闇夜の彼方 灼熱の海
朽ち堕ちていく 影の虚しさよ
光なきこの 夢はやがて
終焉を迎える 君の言葉を
思い出す

燃える大地を 切り裂くように
風纏い 駆け抜ける
その背中に
浮かび上がるは 煌く
さだめの星
鮮やかに 今 光放つ

百花繚乱 色とりどりに
さき競い 散り急ぐ
この時代を
強く生きよと願った
君を想う 
ゆっくりと 明ける空見上げた

Yamiyo no kanata shakunetsu no umi 
Kuchi ochite iku kage no munashi-sa yo 
Hikari naki kono yume wa yagate 
Shūen o mukaeru kimi no kotoba o 
Omoidasu 

Moeru daichi o kirisaku yō ni 
Kazematoi kakenukeru 
Sono senaka ni 
Ukabiagaru wa kirameku 
Sadame no hoshi 
Azayaka ni ima hikari hanatsu 

Hyakkaryōran irotoridori ni 
Saki kisoi chiriisogu 
Kono jidai o 
Tsuyoku ikiyo to negatta 
Kimi o omou 
Yukkuri to akeru sora miageta

Song Connections/Remixes
Edit
天上の星 ~黎明記~ is the third song in a series of HYPER JAPANESQUE songs. The others include:
天上の星 ~黎明記~ is romanized to tenjou no hoshi ~reimeiki~, which means Stars in the sky ~The Story of Dawn~.
In pop'n music, 天上の星 ~黎明記~'s BPM is displayed as 170?, even though the actual BPM changes are 170→85→170.
天上の星 ~黎明記~ is one of the five Daily Special songs on DanceDanceRevolution X3 VS 2ndMIX, appearing only on Wednesdays. 天上の星 ~黎明記~, along with the other four Daily Special songs, became fully unlocked. The other four songs are:
Difficulty & Notecounts
Edit
Game
SP Difficulty
DP Difficulty
BEG
BAS
DIF
EXP
CHA
BAS
DIF
EXP
CHA
Notecounts/Freeze Arrows(Shock Arrows)
103/0
162/7
233/14
336/38
-
141/7
223/15
323/33
-
DDR X3 VS 2ndMIX→Present
2
5
8
12
-
5
8
12
-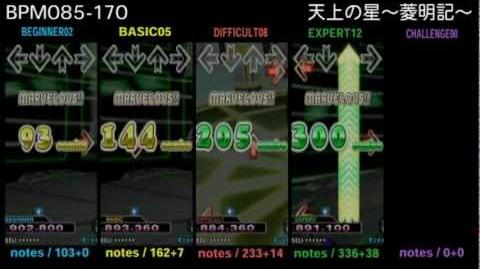 Ad blocker interference detected!
Wikia is a free-to-use site that makes money from advertising. We have a modified experience for viewers using ad blockers

Wikia is not accessible if you've made further modifications. Remove the custom ad blocker rule(s) and the page will load as expected.