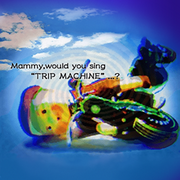 Song Information
Edit
Artist: 2MB
BPM: 160
Composition: NM SEQUENCE UNLIMITED
Arrangement: U1-2MB[k] PROJECT
First Appearance: Dance Dance Revolution 2ndMIX CS
Other Appearances:
Dancing Stage EuroMIX (Internet Ranking)
Dance Dance Revolution 3rdMIX PLUS
Dance Dance Revolution 3rdMIX CS
Dance Dance Revolution Solo 2000
Dance Dance Revolution USA
Dance Dance Revolution KONAMIX
Dancing Stage PARTY EDiTiON
Dance Dance Revolution EXTREME JP CS
Dance Dance Revolution ULTRAMIX
Dancing Stage Unleashed
Dancing Fusion CS
DanceDanceRevolution X JP CS
DanceDanceRevolution S+ TRIP MACHINE Pack
DanceDanceRevolution (2010) DDR KONAMIX Greatest Hits Pack
DanceDanceRevolution Classroom Edition
Length: 1:44
Some soundbites, including:
Mommy, would you sing jingle bells for me ...?

Remixes/Song Connections
Edit
TRIP MACHINE~luv mix~'s background and jacket do not display the song title, but instead the line that is heard in the beginning of the song, "Mammy, would you sing 'TRIP MACHINE' ...?"
TRIP MACHINE~luv mix~ marks the first and only time U1-ASAMi remixes a song in the TRIP MACHINE series.
Despite its arcade debut being in DDR Solo 2000, TRIP MACHINE~luv mix~ is listed in the DDR 3rdMIX folder starting from DDR X onwards.
Official Song Comment
Edit
None.
Ad blocker interference detected!
Wikia is a free-to-use site that makes money from advertising. We have a modified experience for viewers using ad blockers

Wikia is not accessible if you've made further modifications. Remove the custom ad blocker rule(s) and the page will load as expected.