Not to be confused with SURRENDER(YOUR LOVE).
Song Information
Edit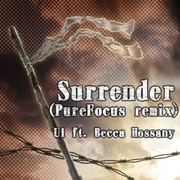 Artist: U1 ft. Becca Hossany
BPM: 130
Composition: Yuichi Asami
Arrangement: PureFocus
Lyrics: Andy Littlewood
Vocals: Becca Hossany
First Appearance: DanceDanceRevolution II
Length: 1:35 (short), 3:30 (long)
Currently unavailable.
Song Connections / Remixes
Edit
None.
Surrender (PureFocus remix) marks Yuichi Asami's first song with Becca Hossany on vocals.
Difficulty & Notecounts
Edit
Game
SP Difficulty
DP Difficulty
BEG
BAS
DIF
EXP
CHA
BAS
DIF
EXP
CHA
Notecounts/Freeze Arrows
?/?
?/?
?/?
329/14
-
?/?
?/?
335/10
-
DDR II
2
5
9
13
-
5
9
13
-
Ad blocker interference detected!
Wikia is a free-to-use site that makes money from advertising. We have a modified experience for viewers using ad blockers

Wikia is not accessible if you've made further modifications. Remove the custom ad blocker rule(s) and the page will load as expected.