Song Information
Edit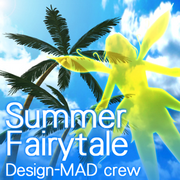 Artist: Design-MAD crew
Composition/Arrangement: Osamu Migitera
Lyrics: Alexa Slaymaker and Michelle Robbins
Vocals: Michelle Robbins
BPM: 141
Length: 1:55
First Appearance: DanceDanceRevolution II
First AC Appearance: DanceDanceRevolution (2013)
Other Game Appearance:
Each and every summer, I see your face
I wait patiently
I long for you to notice me
But today was different, our eyes finally met
My heart skipped a beat
Never felt anything so sweet

If only you knew how easily I fell
Gently take my hand and lead me all the way
Oh, this will be my own summer fairytale
You're my heart, you drive me from the start

Someone pinch me
Is this really happening?
Please don't wake me from this dream

You took me by surprise, you closed your eyes
And kissed me beneath
All the stars in the summer sky
Guess I should have realized, your heart was mine
And you'll always be
My true love in the summertime
Song Connections / Remixes
Edit
None.
Summer Fairytale's artist, Design-MAD crew, is similar to Osamu Migitera's positive MAD-crew alias (which he used on Mynarco from jubeat saucer and pop'n music Sunny Park).
Summer Fairytale is the Enjoy Level 35 unlock on DanceDanceRevolution 2013. It also has a new Challenge chart, unlocked at Enjoy Level 85.
Song Production Information
Edit
None.
Difficulty & Notecounts
Edit
Game
Single
Doubles
BEG
BAS
DIF
EXP
CHA
BAS
DIF
EXP
CHA
Notecounts / Freeze Arrows / Shock Arrows
83 / 7
131 / 31
189 / 35
218 / 44
420 / 19 / -
153 / 28
199 / 22
239 / 55
411 / 19 / -
DDR II
2
5
7
10
—
5
7
10
—
DDR (2013)→Present
2
5
7
↓9
14
5
7
↓9
14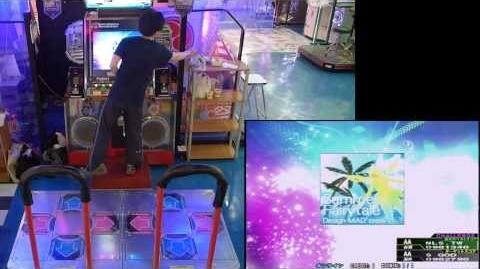 Ad blocker interference detected!
Wikia is a free-to-use site that makes money from advertising. We have a modified experience for viewers using ad blockers

Wikia is not accessible if you've made further modifications. Remove the custom ad blocker rule(s) and the page will load as expected.