Song Information
Edit
Artist: Royz
BPM: 190
Album: ???
Video Type: Music Video
First Appearance: DanceDanceRevolution (2013)
Length: ???
None yet
Song Connections/Remixes
Edit
Starry HEAVEN is one of two songs by Royz that are featured in DDR, with the other being ACROSS WORLD.
Starry HEAVEN and ACROSS WORLD both received Challenge charts on May 10, to celebrate Royz's anniversary. Starry HEAVEN's Challenge charts are Level 13 and Level 12 on Single and Double, respectively
Difficulty & Notecounts
Edit
Game
SP Difficulty
DP Difficulty
BEG
BAS
DIF
EXP
CHA
BAS
DIF
EXP
CHA
Notecounts/Freeze Arrows
77/0
123/5
199/12
283/11
336/32
121/6
201/10
288/11
351/12
DDR (2013)
2
5
8
11
13
5
8
11
12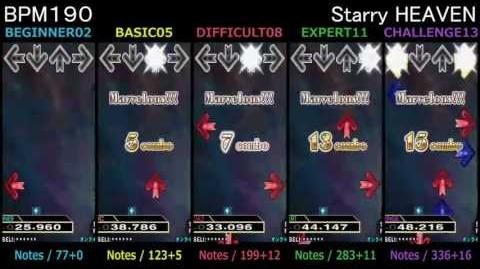 Ad blocker interference detected!
Wikia is a free-to-use site that makes money from advertising. We have a modified experience for viewers using ad blockers

Wikia is not accessible if you've made further modifications. Remove the custom ad blocker rule(s) and the page will load as expected.