Not to be confused with Shiny World.
Song Information
Edit
Artist: ピンクターボ
BPM: 185
Composition: NAOKI MAEDA
Arrangement: Pink Turbo
Lyrics: Riyu Kosaka
Vocals: Makino Mizuta
Video Type: Stage (X2→X3 VS 2ndMIX), None (DDR 2013)
First Appearance: DanceDanceRevolution X2
Length: 1:50
 大事な何かがワカッタ あの Sunny Day!
 ホントの優しさ 楽しさ 覚えた日

 Days 何よりも夢中になってた
 時間なんてどうだってヨクて
 遠い日々が懐かしい...

 もう 最高潮に楽しくて 消えない声 尽きない話 いつも光ってた頃...

 自信もついた 失敗も何度もした だけど忘れない 暖かかったあの頃...

 大事な何か見失った Rainy Day
 悔しさ もどかしさ 涙も覚えた日

 大事なこと教えてもらった Shiny Day
 支えられた そして信じられたんだ...

 大事なこと知らなかった あの Rainy Day...

 大事な何か見つけられた Shiny Day...

 忘れない Shiny Day...

Song Connections/Remixes
Edit
☆shining☆ is a cover of the original ☆shining☆ by りゆ&のりあ (Riyu and Noria).
A GF/DM arrangement of ☆shining☆ was performed at the GuitarFreaksXG & DrumManiaXG SPECIAL LIVE at shimokitazawa GARDEN 2011.06.18, bonus disc that can be found with the GuitarFreaksXG2 & DrumManiaXG2 Original Soundtrack 2nd season album.
☆shining☆ is one of the default Konami originals in DanceDanceRevolution X2.
☆shining☆ marks the first appearance and only contribution of Pink Turbo in the DanceDanceRevolution series.
☆shining☆ has a special background video. However, it is displayed on a stage rather than fullscreen.
The members of Pink Turbo, MAKINO and NOBO, appear on both the album art and background video for ☆shining☆.
In the North American/European version of DDR X2, ☆shining☆'s artist is changed to PINK TURBO.
☆shining☆'s background video was removed from DDR (2013) due to technical issues.
Background Video
Edit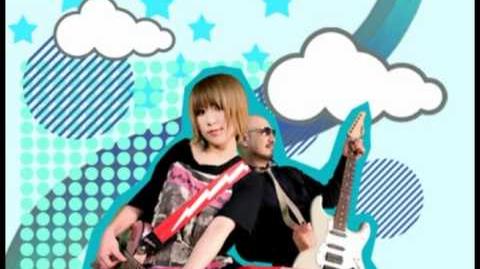 Official Song Comment
Edit
Untranslated.
Ad blocker interference detected!
Wikia is a free-to-use site that makes money from advertising. We have a modified experience for viewers using ad blockers

Wikia is not accessible if you've made further modifications. Remove the custom ad blocker rule(s) and the page will load as expected.