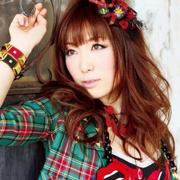 Song Information
Edit
Artist: 栗林みな実 (Minami Kuribayashi)
BPM: 154
First Appearance: DanceDanceRevolution X3 VS 2ndMIX
Length: 1:44
None yet.
Remixes/Song Connections
Edit
None.
STRAIGHT JET is one of the seven licensed songs in DDR X3 VS 2ndMIX.
STRAIGHT JET is the only license to appear on the DanceDanceRevolution X3 VS 2ndMIX ~X3 SIDE~ Original Soundtrack.
STRAIGHT JET is used as the opening theme for IS(インフィニット・ストラトス) anime (known in English as Infinite Stratos).
Official Song Comment
Edit
None.
Ad blocker interference detected!
Wikia is a free-to-use site that makes money from advertising. We have a modified experience for viewers using ad blockers

Wikia is not accessible if you've made further modifications. Remove the custom ad blocker rule(s) and the page will load as expected.