Song Information
Edit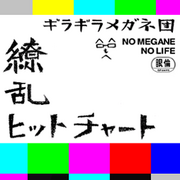 Artist: ギラギラメガネ団
BPM: 192
Composition/Arrangement/Lyrics: Jun Wakita
Vocals/Chorus: Hideto Ishii
Additional guitar: Yusuke Sekiguchi
Bass: Toshihiro Mizuno
pop'n music Genre: NEGAME ROCK (ネガメロック)
Video Type: Stage (X3 VS 2ndMIX), None (DDR 2013)
First BEMANI Appearance: GuitarFreaks V3 & DrumMania V3
First DDR Appearance: DanceDanceRevolution X3 VS 2ndMIX
Other Appearances:
Length: 2:00
(How low,P,M?)

桜の花びら舞い踊る
散る其の刹那舞い踊る
狂い咲けとて 嘯きを放ち
蓑着て踊れ

星空も
見飽きているのかい
敵は塔の上
掻き鳴らせ風 風!

不修多羅に破棄捨てた妄想 擦れ違う交情
遣る瀬無き紅き名も 技も呑み込む濁流
撒き散らす常套句 空シンパシイ抱いて
咲き誇れ咲き誇れ 意味なんかない!

風に舞う 隠れ物 とけた

咲き誇れ咲き誇れ 意義なんかない
俺の歌 誰が為の歌 錯乱の歌
また隠されてた(笑)

インマイライフ

Song Connections/Remixes
Edit
繚乱ヒットチャート is related to the other Giragira songs: ポップミュージック論, chilblain, and 辞世テンプレート.
pop'n music 16 PARTY♪ uses a slightly different version of 繚乱ヒットチャート.
繚乱ヒットチャート was made available for play on DanceDanceRevolution X3 VS 2ndMIX starting February 20, 2012, as a Daily Special song appearing only on Thursdays. On May 28, 2012, it became fully unlocked for regular play. The other four Daily Special songs are:
繚乱ヒットチャート has its background video from GuitarFreaks V5 & DrumMania V5 in DDR X3 VS 2ndMIX. However, it is shown on a stage rather than in fullscreen.
繚乱ヒットチャート's background video was removed from DDR (2013) due to technical issues.
Background Video
Edit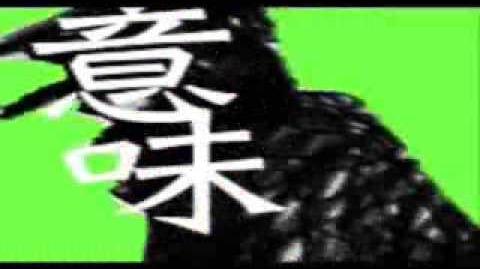 Difficulty & Notecounts
Edit
Game
SP Difficulty
DP Difficulty
BEG
BAS
DIF
EXP
CHA
BAS
DIF
EXP
CHA
Notecounts/Freeze Arrows
100/3
200/22
300/24
444/19
-
170/14
280/23
408/15
-
DDR X3 VS 2ndMIX→Present
2
5
8
13
-
5
8
13
-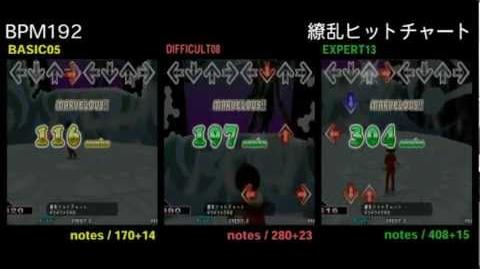 Ad blocker interference detected!
Wikia is a free-to-use site that makes money from advertising. We have a modified experience for viewers using ad blockers

Wikia is not accessible if you've made further modifications. Remove the custom ad blocker rule(s) and the page will load as expected.