Song Information
Edit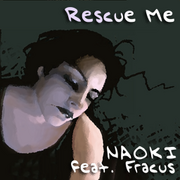 Artist: NAOKI feat. Fracus
BPM: 145
Composition: Fracus
Arrangement: NAOKI MAEDA
First Appearance: DanceDanceRevolution S
First AC Appearance: DanceDanceRevolution X3 VS 2ndMIX
Other Appearances:
Length: 1:36
Everyday, haunting me

You will stay in my dreams

I don't want to be lost inside

Far away and I'm feeling scared

If I dream I can turn back time

But when I awake you're not there

Hoping that my thoughts would take me to yesterday

If I listen still the voice in my head keeps on asking to stay


Why, why did you set me free?

You took your love from me

Just mend my broken heart and rescue me

(I love you...forever...when will I see you again?)


Why, why did you set me free

You took your love from me

So mend this broken heart and rescue me


Why, why did you have to walk away

You haunt me every day

Just take my heart and rescue me

Song Connections/Remixes
Edit
Rescue Me is the first song originating from DanceDanceRevolution S to be ported to different games, as well as DanceDanceRevolution X3 VS 2ndMIX.
Rescue Me has the same steps as MEMORIES, except the Double Expert chart is based off of the Single Expert chart, but with the addition of freeze arrows.
On DDR S, Rescue Me's artist is known as Fracus feat. NAOKI. Despite this, a banner with the artist as NAOKI feat. Fracus can still be found in the DDR S data.
Official Song Comment
Edit
Untranslated.
Difficulty & Notecounts
Edit
Game
SP Difficulty
DP Difficulty
BEG
BAS
DIF
EXP
CHA
BAS
DIF
EXP
CHA
Notecounts/Freeze Arrows
87/0
106/0
232/0
308/0
-
126/0
232/0
308/23
-
DDR S
3
5
8
11
-
-
-
-
-
DDR (2010)
☆2
☆4
☆6
☆8
-
-
-
-
-
DDR X3 VS 2ndMIX→Present
↓2
↓4
8
↑12
-
5
9
13
-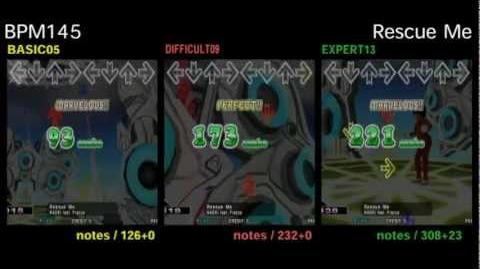 Ad blocker interference detected!
Wikia is a free-to-use site that makes money from advertising. We have a modified experience for viewers using ad blockers

Wikia is not accessible if you've made further modifications. Remove the custom ad blocker rule(s) and the page will load as expected.