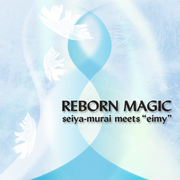 Song Information
Edit
Artist: seiya-murai meets "eimy"
BPM: 140
Composition/Arrangement/Lyrics: Seiya Murai
Vocals: eimy
First Appearance: DanceDanceRevolution X3 VS 2ndMIX
Length: 1:49
オシャレに気をつけて
流行を追いかけて
ちょっと恋なんかして
ネットでおしゃべりして
いつも夜ふかしして
たまに朝寝坊して
ママに怒られて
それが日常だった


あの日から飛べなくなったこの翼
前へ、ほんの少し、踏み出して
ジャンプするだけだから


生まれ変わるよ、泣かない!もう逃げない!
変身の呪文は、"ABRACADABRA"(アブアカダブラ)なんかじゃなくて
勇気を出せば、叶うと信じること
魔法使いだから私、強いよ!?

oshare ni kiwo tsukete
ryuukou wo oi kakete
chotto koi nankashite
netto deoshaberishite
itsumo yoru fukashishite
tamani asanebou shite
mama ni ikara rete
sorega nichijou datta


ano nichi kara tobe nakunattakono tsubasa
mae he , honno sukoshi , fumi dashi te
janpu surudakedakara


umare kawa ruyo , naka nai ! mou nige nai !
henshin no jumon ha , "ABRACADABRA" nankajanakute
yuuki wo dase ba , kanau to shinji rukoto
mahoutsukai dakara watashi , tsuyoi yo !?

Remixes/Song Connections
Edit
None.
REBORN MAGIC is Seiya Murai's first original song for the DanceDanceRevolution series.

It's also eimy's first original contribution for the series.

REBORN MAGIC is an Enjoy Level 35 unlock on DDR X3 VS 2ndMIX.
Official Song Comment
Edit
Untranslated.
Difficulty & Notecounts
Edit
Game
SP Difficulty
DP Difficulty
BEG
BAS
DIF
EXP
CHA
BAS
DIF
EXP
CHA
Notecounts/Freeze Arrows
94/0
150/12
231/9
278/8
-
147/10
223/7
328/7
-
DDR X3 VS 2ndMIX→Present
2
4
7
9
-
5
7
11
-
Ad blocker interference detected!
Wikia is a free-to-use site that makes money from advertising. We have a modified experience for viewers using ad blockers

Wikia is not accessible if you've made further modifications. Remove the custom ad blocker rule(s) and the page will load as expected.