Song Information
Edit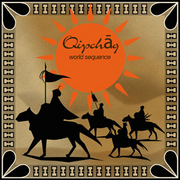 Artist: world sequence
BPM: 150
Composition/Arrangement: Seiya Murai
First Appearance: DanceDanceRevolution (2013)
Length: 1:33
None.
Song Connections / Remixes
Edit
None.
Qipchãq marks Seiya Murai's first use of his World Sequence alias in the DanceDanceRevolution series. Qipchãq also marks Seiya Murai's first use of his World Sequence alias in BEMANI since GEO SONG from pop'n music 17 THE MOVIE.
The Qipchãqs were a Turkic tribal confederation. See more info here.
Official Song Comment
Edit
For this new DDR song, I brought back my old alias for making fanciful ethnic music "world sequence".
I first discussed this song at the unveiling of the new DDR cabinet at the arcade show earlier this year.

Lately I've been receiving more and more requests to do non-pop songs and venture off a little bit into different rhythm songs, so I suppose this song falls into that category?
I was asked to make a song outside the typical dance song, so it was decided that I would make a song inspired by the marching of soldiers and that was combined with a folksy-color to the song to make it sound intercontinental.

Qipchaq was the original name given to the region of central Asia by the old tribes who lived there. You may remember reading about this tribe in your history textbook as part of the Ghangis Khan's Mongolian empire, but it seems that the tribe was filled with brave warriors and the region was often engrossed in battles.

I named the song Qipchaq because the song has the image of warriors wondering through the vast grass plains on their horses, although this title was added after the song was composed (laughs). Thanks to the title, I was able to learn a little bit about Chinese history.

I think that you can imagine traveling through the vast grass plains while you dance to this song.

(Seiya Murai)
Difficulty & Notecounts
Edit
Game
SP Difficulty
DP Difficulty
BEG
BAS
DIF
EXP
CHA
BAS
DIF
EXP
CHA
Notecounts/Freeze Arrows
88/4
139/7
231/20
309/16
-
143/7
229/14
307/16
-
DDR (2013)→Present
3
5
8
11
-
5
8
11
-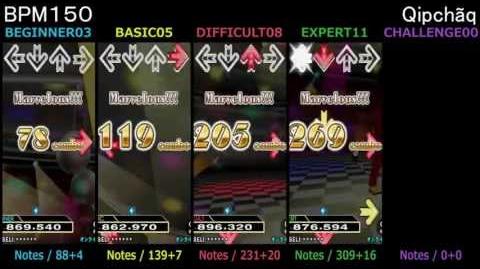 Ad blocker interference detected!
Wikia is a free-to-use site that makes money from advertising. We have a modified experience for viewers using ad blockers

Wikia is not accessible if you've made further modifications. Remove the custom ad blocker rule(s) and the page will load as expected.