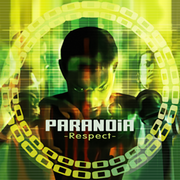 Song Information
Edit
Artist: .3k
BPM: 300
Composition: NM SEQUENCE UNLIMITED
Arrangement: Sota Fujimori
First Appearance: Dance Dance Revolution Party Collection
First AC Appearance: Dance Dance Revolution SuperNOVA
Other Appearances:
DanceDanceRevolution X JP CS
Length: 1:41
Some soundbites can be heard.
Remixes/Song Connections
Edit
PARANOiA-Respect- is part of the PARANOiA series of songs. The other songs are:
PARANOiA-Respect- is the only hidden boss song on Dance Dance Revolution Party Collection.
PARANOiA-Respect- marks the first time Sota Fujimori remixes a song in the PARANOiA series.

It is also Sota Fujimori's first boss song. His first original boss song is MAXIMIZER, albeit under his CLI-MAX S. alias.

PARANOiA-Respect- is the Sticker Stage 06-2 unlock song on DanceDanceRevolution Dance Wars.
PARANOiA-Respect-'s banner in DDR Dance Wars is actually a crop from its album art, albeit in a higher resolution than normal (392x122 vs 256x80).
In DDR Dance Wars, PARANOiA-Respect-'s BPM is incorrectly displayed as 300-304. This has since been corrected on version 1.0.2.
Official Song Comment
Edit
None.
Ad blocker interference detected!
Wikia is a free-to-use site that makes money from advertising. We have a modified experience for viewers using ad blockers

Wikia is not accessible if you've made further modifications. Remove the custom ad blocker rule(s) and the page will load as expected.