Introduction
Edit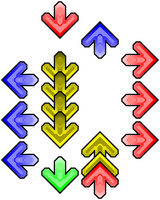 Note is an arrow option first introduced in early CS releases of the DanceDanceRevolution series, then in the arcade series starting with DanceDanceRevolution SuperNOVA. It colors all notes according to the beat they land on.
Note was introduced as a modifier in DDR SuperNOVA; it is functionally similar to Rainbow, but the colors are more distinctive. (This arrow option was actually available on most previous home DDR games, through a setting on the options menu; for example, in DDRMAX, it can be accessed through the Graphic Options menu by switching the arrow display to TYPE2)
If you want to find the Chaos value of a song's chart, you must use the Note option in order to be able to find the Total Chaos Base Value of all the notes.
How the Arrows are Colored
Edit
4th notes are colored red, 8th notes are colored blue, 16th notes are colored yellow, and all other notes are colored green. There are some songs like Fascination MAXX where the regular beats do not land on 4th or 8th notes. This is where the Note option becomes useless, and you may have to use the Rainbow or Vivid options instead.
Arcade Series
Edit
DDR SuperNOVA→Present
Edit
Available as an arrow option alongside Vivid, Flat, and Rainbow.
CS Releases
Edit
To be updated.
DDR Wii Games
Edit
The Note option was not introduced until DanceDanceRevolution HOTTEST PARTY 3.
Ad blocker interference detected!
Wikia is a free-to-use site that makes money from advertising. We have a modified experience for viewers using ad blockers

Wikia is not accessible if you've made further modifications. Remove the custom ad blocker rule(s) and the page will load as expected.