Song Information
Edit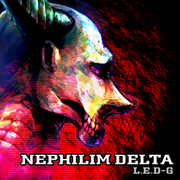 Artist: L.E.D.-G
Composition/Arrangement: L.E.D.-G
BPM: 220
Length: 1:45
First Appearance: DanceDanceRevolution X3 VS 2ndMIX
Unknown except for
Destruction!
Song Connections / Remixes
Edit
The voice in NEPHILIM DELTA sounds much like the same one used in 2 other L.E.D.-G songs, DOMINION & THE FALLEN.
NEPHILIM DELTA shares similarities with other L.E.D. songs, such as Cookie Bouquets, STEEL NEEDLE, and CHIP'N'RIDDIM.
NEPHILIM DELTA is part of L.E.D.'s GIANT series, along with TITANS RETURN, a boss song from REFLEC BEAT limelight.

According to L.E.D., NEPHILIM DELTA and TITANS RETURN were developed at almost the same time.
NEPHILIM DELTA was the second ENCORE EXTRA STAGE song for DanceDanceRevolution X3 VS 2ndMIX, at EXTRA STAGE Level 2. It was added on January 24, 2012.

On April 25, 2012, at EXTRA STAGE Level 3, NEPHILIM DELTA became an EXTRA STAGE song. AAing it would unlock SILVER☆DREAM as the new ENCORE EXTRA STAGE.
As of July 23, 2012, all regular boss songs are fully unlocked.

NEPHILIM DELTA marks Toshiyuki Kakuta's first original contribution to the DanceDanceRevolution series, as well as his first original boss song for the DanceDanceRevolution series.
As of DDR 2013, NEPHILIM DELTA's Single Expert chart has the most notes of any Level 14 Single Expert chart at 583 notes. The honor for the most notes of any Level 14 chart goes to Elemental Creation's Single Difficult chart, at 614 notes.
According to the Bible, the Nephilim (ネフィリム/ネピリム) were giants who inhabited Canaan.
Song Production Information
Edit
Untranslated.
Difficulty & Notecounts
Edit
Game
SP Difficulty
DP Difficulty
BEG
BAS
DIF
EXP
CHA
BAS
DIF
EXP
CHA
Notecounts/Freeze Arrows
167/1
289/10
466/3
583/3
-
282/4
420/4
561/3
-
DDR X3 VS 2ndMIX
4
8
12
15
-
8
12
15
-
DDR (2013)→Present
4
8
12
↓14
-
8
12
↓14
-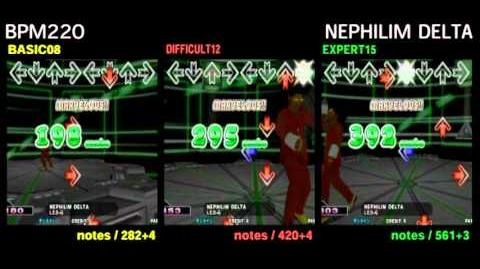 Groove Radar Values
Edit
Groove Radar Values
Difficulty
STR
VOL
AIR
FRE
CHA
Beginner
31.7
36.7
8.2
0
Single Basic
55
28.3
1.1
Single Difficult
88.7
73.3
16
28.9
Single Expert
121.1
73.3
19.7
Single Challenge
-
-
-
-
-
Double Basic
Double Difficult
80
73.3
Double Expert
118
73.3
19.7
Double Challenge
-
-
-
-
-
Ad blocker interference detected!
Wikia is a free-to-use site that makes money from advertising. We have a modified experience for viewers using ad blockers

Wikia is not accessible if you've made further modifications. Remove the custom ad blocker rule(s) and the page will load as expected.