Not to be confused with MOVIN ON (Extended Moon Mix) from DDR 5thMIX.
Song Information
Edit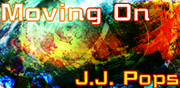 Artist: J.J. Pops
BPM: 140
Composition/Arrangement: NAOKI MAEDA
Vocals: J.J. Pops
First Appearance: DanceDanceRevolution HOTTEST PARTY
Other Appearances:
Length: 1:41
Currently unavailable.
Song Connections / Remixes
Edit
The background of the song banner was later used for DDR HOTTEST PARTY 2's title screen on the Wii menu.
Ad blocker interference detected!
Wikia is a free-to-use site that makes money from advertising. We have a modified experience for viewers using ad blockers

Wikia is not accessible if you've made further modifications. Remove the custom ad blocker rule(s) and the page will load as expected.