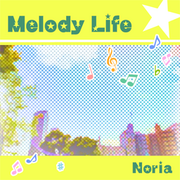 Song Information
Edit
Artist: Noria (Japanese), 张馨予 (Chinese)
BPM: 172
Composition/Arrangement: Takayuki Ishikawa
Lyrics/Vocals: Noria (Japanese), Zhāng Xīnyǔ (Chinese)
Genre: NEW ACOUSTIC
First Appearance: beatmaniaIIDX13 DistorteD
Other Appearances:
Length: 2:02
It is unknown what the Chinese lyrics are.
この街のどこかに見上げた ビルの隙間から見る空
キレイと少し思った瞬間に口ずさんだ歌があった
思い出して今スグ歌って It's now ever or never

華やかさで隠れた夜も 真昼の光で照らされるような
この場所だけはアツクて 満たされて時は進む
苦しくても平気だから ねぇ一緒に singing music

Melody! Memory! I believe I can do it 人ゴミに紛れても
星のない空で君は今もずっと輝く
Anyway! Anytime! このココロが
現在を歌い続ける
明日を生きる希望 音になる

Kono machi no dokoka ni miageta
BIRU no sukima kara miru sora KIREI
to sukoshi omotta toki ni kuchizusa n da uta ga atta
omoidashite ima SUGU uta tte It's now ever or never

Hanayakasa de kakureta yoru mo
mahiru no hikari de terasareru you na
kono basho dake wa ATSUKU te mitasarete toki wa susumu
kurushikute mo heiki dakara ne? issho ni singing music

Melody! Memory! I believe I can do it
hito GOMI ni magirete mo
hoshi no nai sora de kimi wa ima mo zutto kagayaku
Anyway! Anytime! kono KOKORO ga
ima wo utai tsuzukeru
asu wo ikiru kibou oto ni naru

Remixes/Song Connections
Edit
A different version of Melody Life, titled Melody Life 'eco', appears on BeForU's single CD Red Rocket Rising.
A Chinese version of Melody Life, with the same title but credited to 張馨予 (Zhāng Xīnyǔ), appears in DanceDanceRevolution X2.
None.
Official Song Comment
Edit
Unknown.
Ad blocker interference detected!
Wikia is a free-to-use site that makes money from advertising. We have a modified experience for viewers using ad blockers

Wikia is not accessible if you've made further modifications. Remove the custom ad blocker rule(s) and the page will load as expected.