Song Information
Edit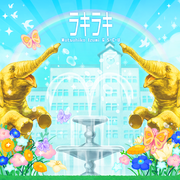 Artist: Mutsuhiko Izumi & S-C-U
Composition/Arrangement: Mutsuhiko Izumi, S-C-U
Genre: LUCKY TECHNO (ラッキーテクノ)
BPM: 165
Length: 1:43
First Appearance: DanceDanceRevolution (2013) / beatmaniaIIDX 20 tricoro / jubeat saucer / pop'n music Sunny Park / REFLEC BEAT colette -Spring-
None.
Song Connections / Remixes
Edit
ラキラキ is part of the 私立BEMANI学園 (Private BEMANI Academy) event. The other songs are:
A rock rearrange of ラキラキ, titled ラキラキ (GITADORA Ver.), can be found on GITADORA.
To unlock ラキラキ, you must get 100% on Friendship to Mutsuhiko Izumi and S-C-U. By playing the following games, you will get a certain percentage of Friendship towards unlocking ラキラキ:

jubeat saucer: 5%
DanceDanceRevolution, pop'n music Sunny Park: 1%
beatmaniaIIDX 20 tricoro, GITADORA, REFLEC BEAT colette: 0.5% (will also unlock ラキラキ (GITADORA Ver.))

ラキラキ marks the first collaboration between Mutsuhiko Izumi and S-C-U in BEMANI.

ラキラキ also marks Mutsuhiko Izumi's first non-crossover appearance in the DanceDanceRevolution series. He would later compose his first original song for the DDR series, Spanish Snowy Dance.
ラキラキ also marks S-C-U's second original song for the DDR series, after heron (also from DDR 2013).

ラキラキ means "lucky, lucky".
ラキラキ is the shortest of all 10 私立BEMANI学園 songs, clocking in at only 1:43 (1 minute 43 seconds).
Song Production Information
Edit
Mutsuhiko Izumi
Edit
Untranslated.
Untranslated.
Difficulty & Notecounts
Edit
Game
Single
Doubles
BEG
BAS
DIF
EXP
CHA
BAS
DIF
EXP
CHA
Notecounts / Freeze Arrows / Shock Arrows
73 / 5
241 / 12
331 / 14
422 / 26
- / - / -
241 / 12
322 / 14
399 / 39
- / - / -
DDR (2013)→Present
2
7
10
13
—
7
10
13
—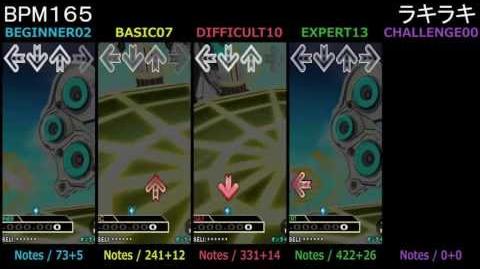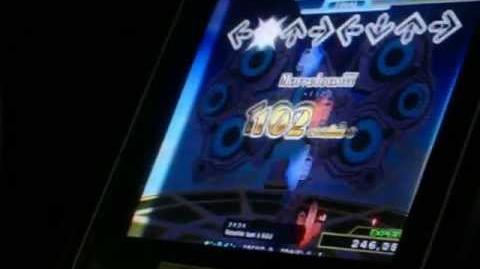 Ad blocker interference detected!
Wikia is a free-to-use site that makes money from advertising. We have a modified experience for viewers using ad blockers

Wikia is not accessible if you've made further modifications. Remove the custom ad blocker rule(s) and the page will load as expected.