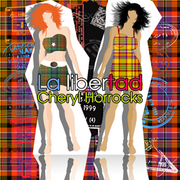 Song Information
Edit
Artist: Cheryl Horrocks
BPM: 170
Composition/Arrangement: Jun Wakita
Lyrics: Jeanette Herrera
Vocals: Cheryl Horrocks
First Appearance: DanceDanceRevolution X2
Other Appearances:
DanceDanceRevolution X2 US CS
DanceDanceRevolution HOTTEST PARTY 3/MUSIC FIT
Length: 1:46
tienes un montón de tiempo
ahora tienes que librarte
nunca miras por atras no
nos miramos adelante
no, quedamos aqui
vamos a correr y luchar siempre sí

entonces
si tu quieres algo mejor
en este vida tan confundo (de confusión)
no temais ven conmigo y luchamos siempre así
y sin mirar atras jamas logramos todo los sueños

tu sabes
un mundo mejor
con mucho color
un oportunidad de ser tan libre
y expresarte sin barreras
de paz, amor, felicidad verdad

te digo
nos yamos juntos
y nos logramos
todos los sueños que te has soñado
imaginate un mundo es nuestro la libertad
verdad
la libertad

Remixes/Song Connections
Edit
None.
La libertad in Spanish means "freedom".
La libertad is unlocked on DanceDanceRevolution X2 by reaching Enjoy Level 26.
Official Song Comment
Edit
Unknown.
Ad blocker interference detected!
Wikia is a free-to-use site that makes money from advertising. We have a modified experience for viewers using ad blockers

Wikia is not accessible if you've made further modifications. Remove the custom ad blocker rule(s) and the page will load as expected.