Not to be confused with LOVIN' YOU (ROB SEARLE CLUB MIX) by VINYL BABY.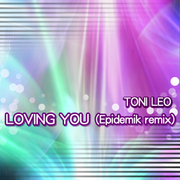 Song Information
Edit
Artist: TONI LEO
BPM: 165
Composition: Naoki Maeda
Arrangement: Epidemik
Lyrics: Andy Littlewood, Leo
Vocals: TONI LEO
First Appearance: DanceDanceRevolution HOTTEST PARTY 2 / DanceDanceRevolution X
Length: 1:42
★It's crazy how I feel about you
No one makes me smile the way you do
Every day I dream about you babe
I could never stop loving you

I spent so long just trying to hide
Loneliness hidden so deep inside
All the feelings that would never die
One day someone special came to stay
Stole my heart and blew me away
I don't know what to do
I'm yearning, I'm burning with love for you

★ Repeat

Now my head is full of dreams that I'm with you
My heart is filled with joy when I hear your name
And it's so funny that I feel this way
And you take me up to higher ground
You changed my life and turned it around
Don't ever leave me alone
I need you, please love me forever

★ Repeat x2

Song Connections/Remixes
Edit
None.
LOVING YOU (Epidemik remix) is one of the few songs in DDR X that has a special dance routine.
LOVING YOU (Epidemik remix) has absolutely nothing to do with LOVIN' YOU (ROB SEARLE CLUB MIX) aside from title relation.
Official Song Comment
Edit
Unknown.
Ad blocker interference detected!
Wikia is a free-to-use site that makes money from advertising. We have a modified experience for viewers using ad blockers

Wikia is not accessible if you've made further modifications. Remove the custom ad blocker rule(s) and the page will load as expected.