Janet is a female Jamaican native with long brown hair, tanned skin and brown eyes.
Dance Dance Revolution 2ndMIX-DanceDanceRevolution X3 VS 2ndMIX
Edit
In her debut appearance in 2ndMIX, Janet is seen wearing a white long sleeve v-neck short dress with a white tiger collar and the folden sleeves of her dress and black thigh-high boots with a matching white tiger folden sleeves on her boots. Her brown hair is tied in a bun and wears a matching white tiger headband and gold hooped earrings in each side of her ears.
This outfit is also playable in DDRMAX2 as well as in Party Collection and later in the remake version of 2ndMIX in DDR X3 VS 2ndMIX.
Dance Dance Revolution 5thMIX-Dance Dance Revolution Party Collection
Edit
Janet has a new wardrobe after she is partnered with Dread-Snake which she partners Disco in the game.
She now wears a fushcia pink long sleeve short tube dress with a black zipper going down at the edge of her short dress and a white extended collar on her tube dress and white thick lines on her upper sleeves, and a matching fushcia pink high-heeled boots. Her hair is now tied in a high ponytail and wears a light blue headband but maintains her gold hooped earrings.
Her appearance is commonly shown in the background videos while handling her compact and dancing with her cousin Tracy in her 4thMIX outfit. This outfit is also playable in Dance Dance Revolution Party Collection you can choose her either her 2ndMIX or 5thMIX outfit.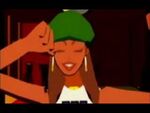 During the background video of Secret Rendezvous alongside her cousin Tracy,
She wears a white sleeveless shirt with purple open book design at the center of her shirt, blue jeans with a red belt to her waist and red shoes. Her hair is now loose and wears a green beret on her head but maintains her gold hooped earrings.
She was later seen in this outfit along with Lorraine and her cousin Tracy in the promotional poster of DDRMAX2.
Ad blocker interference detected!
Wikia is a free-to-use site that makes money from advertising. We have a modified experience for viewers using ad blockers

Wikia is not accessible if you've made further modifications. Remove the custom ad blocker rule(s) and the page will load as expected.