Song Information
Edit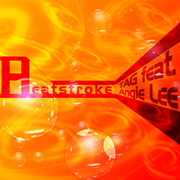 Artist: TAG feat. Angie Lee
BPM: 140
Composition/Arrangement: TAG
Lyrics: Brenda Burch
Vocals: Angie Lee
First Appearance: DanceDanceRevolution X2
Other Appearances:
DanceDanceRevolution X2 US CS
DanceDanceRevolution HOTTEST PARTY 3/MUSIC FIT
DanceDanceRevolution S+ DDR X2&MUSIC FIT Shining Pack
Length: 1:43
Sun is out, it's shining down all over me
Then I hear a whisper behind me
And turn to see you standing here on the beach

Now you're holding out your hand
And asking me to dance to the rhythm
I can hear the music play
As we begin to sway to the beat

The way you pull me close to your heart
Makes me want to never let go
No, I don't want to let go

Like I'm almost dreaming
Is this for real or is it nothing more than just a fantasy
Are you an illusion
Created by the blazing heat surrounding us
You're a fantasy
A fantasy
My fantasy

Song Connections/Remixes
Edit
None.
Heatstroke is TAG's first original song that is not a boss song in any DanceDanceRevolution game.
Heatstroke marks Angie Lee's debut in an arcade DDR game. Her first debut in DDR was with SILVER☆DREAM, which first appeared in the Wii release DanceDanceRevolution HOTTEST PARTY 2 and later appeared in DanceDanceRevolution X3 VS 2ndMIX.
Heatstroke is unlocked on DDR Dance Wars by completing Sticker Stage 07-1.
Official Song Comment
Edit
Unknown.
Difficulty & Notecounts
Edit
Game
SP Difficulty
DP Difficulty
BEG
BAS
DIF
EXP
CHA
BAS
DIF
EXP
CHA
Notecounts/Freeze Arrows(Shock Arrows)
84/0
174/36
219/39
305/4
201/37(20)
170/36
220/29
300/4
201/28(20)
DDR X2
2
6
7
10
8
6
7
10
8
DDR X3 VS 2ndMIX→Present
2
6
↑8
10
8
6
↑8
10
8
DDR X2 CS
2
6
7
10
8
6
7
10
8
DDR HOTTEST PARTY 3/MUSIC FIT
☆2
☆5
☆7
☆8
-
-
-
-
-
DDR S+
2
6
7
10
-
-
-
-
-
DDR Dance Wars
2
6
7
10
-
-
-
-
-
Ad blocker interference detected!
Wikia is a free-to-use site that makes money from advertising. We have a modified experience for viewers using ad blockers

Wikia is not accessible if you've made further modifications. Remove the custom ad blocker rule(s) and the page will load as expected.