Not to be confused with Healing-D-Vision.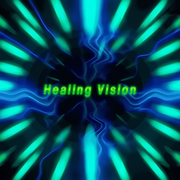 Song Information
Edit
Artist: DE-SIRE
BPM: 49-196
Composition: Naoki Maeda
Genre: Rock Opera
First Appearance: Dance Dance Revolution 5thMIX
Other Appearances:
Dance Dance Revolution 5thMIX CS
Dance Dance Revolution Konamix
DDRMAX -Dance Dance Revolution-
Dancing Stage PARTY EDiTiON
Dance Dance Revolution EXTREME JP CS
Dance Dance Revolution ULTRAMIX
DanceDanceRevolution S+ DDR 5thMIX Pack
Length: 1:44
Unknown.
Remixes/Song Connections
Edit
A remix by 2MB, titled Healing Vision ~Angelic mix~, appears on the console version of Dance Dance Revolution 5thMIX and on all versions of DDRMAX.
Healing Vision (X-Special) is the Encore Extra Stage X-Special for DDR 5thMIX on DDR X. To access, AA PARANOiA ETERNAL(X-Special) as an Extra Stage song.
Healing Vision also appears in the North American PlayStation 2 version of DDRMAX, along with its remix.
Official Song Comment
Edit
None.
Difficulty & Notecounts
Edit
Regular Version
Edit
Game
SP Difficulty
DP Difficulty
BEG
BAS
DIF
EXP
CHA
BAS
DIF
EXP
CHA
Notecounts/Freeze Arrows
107/0
128/0
272/0
353/0
-
136/0
275/0
358/0
-
DDR 5thMIX
-
☆3
☆6
☆8
-
☆3
☆6
☆9
-
DDR MAX2
☆3
☆6
☆8
-
☆3
☆6
☆9
-
DDR EXTREME→DDR SuperNOVA2
☆2
☆3
☆6
☆8
-
☆3
☆6
☆9
-
DDR X→Present
4
5
7
11
-
4
8
13
-
X-Special Version
Edit
Game
SP Difficulty
DP Difficulty
CHA
CHA
Notecounts/Freeze Arrows
462/40
456/26
DDR X
15
15
DDR X2→Present
↓14
↓14
Ad blocker interference detected!
Wikia is a free-to-use site that makes money from advertising. We have a modified experience for viewers using ad blockers

Wikia is not accessible if you've made further modifications. Remove the custom ad blocker rule(s) and the page will load as expected.