Song Information
Edit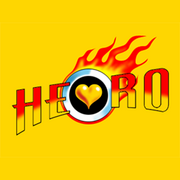 Artist: PAPAYA
Album: Dancemania EXTRA
BPM: 138
Length: 1:37
First Appearance: DanceDanceRevolution X CS US
First AC Appearance: DanceDanceRevolution X2
Not yet available.
Song Connections / Remixes
Edit
In the arcade releases of the DanceDanceRevolution series, HERO (2008 X-edit) is simply known as HERO.
HERO (2008 X-edit) is one of the several Dancemania revivals in DanceDanceRevolution X2.
Unlike many of the licenses in DanceDanceRevolution X2, HERO (2008 X-edit) does not appear in the DanceDanceRevolution X2 Original Soundtrack album.
In DanceDanceRevolution X3 VS 2ndMIX's 2ndMIX mode, the original HERO is used, but with the DDR X cut. As such, it never appears in the X3 folder.
Song Production Information
Edit
None.
Difficulty & Notecounts
Edit
To be updated.
Ad blocker interference detected!
Wikia is a free-to-use site that makes money from advertising. We have a modified experience for viewers using ad blockers

Wikia is not accessible if you've made further modifications. Remove the custom ad blocker rule(s) and the page will load as expected.