Song Information
Edit
Artist: Sota F. feat. Carol Gadsden
BPM: 134
Composition/Arrangement: Sota Fujimori
Lyrics/Vocals: Carol Gadsden
First Appearance: DanceDanceRevolution X3 VS 2ndMIX
Length: 1:54
I got a feeling
Something I'm not used to
Is it because of me
or does it come from you?


And is it hot in here?
I check my pulse is racing
My temperature is high
My legs are shaking


Now I'm a believer, my heart's getting deeper
My body quivers when when I think of you
So bad it is good for me, right it's right for me
You are the fire that made my dreams come true


Time to get myself checked out and find a cure
I thought I had a fever, now I'm sure
When you are in the room with me you see
My fever rises uncontrollably


Good evening doctor, could you close the door
Please give me something I've been waiting for
Apply the remedy to see me through
This fever that you gime me too

Remixes/Song Connections
Edit
None.
Fever marks Carol Gadsden's debut in BEMANI.
Fever is one of the few default new Konami original songs in DanceDanceRevolution X3 VS 2ndMIX.
Official Song Comment
Edit
Untranslated.
Difficulty & Notecounts
Edit
Game
SP Difficulty
DP Difficulty
BEG
BAS
DIF
EXP
CHA
BAS
DIF
EXP
CHA
Notecounts/Freeze Arrows
81/6
140/2
221/11
262/18
-
141/4
222/12
261/16
-
DDR X3 VS 2ndMIX→Present
1
4
7
9
-
4
6
9
-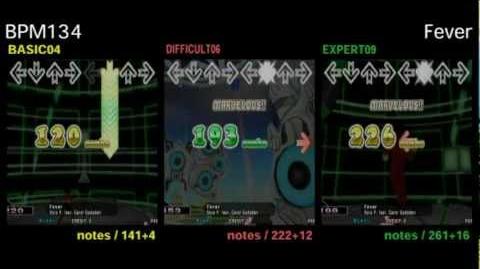 Ad blocker interference detected!
Wikia is a free-to-use site that makes money from advertising. We have a modified experience for viewers using ad blockers

Wikia is not accessible if you've made further modifications. Remove the custom ad blocker rule(s) and the page will load as expected.