For the YOMA KOMATSU song of the same name, see ever snow (Yoma Komatsu).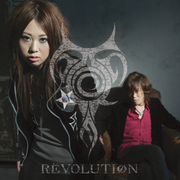 Song Information
Edit
Artist: TЁЯRA
Original Artist: YOMA KOMATSU
BPM: 145
Composition/Arrangement: Naoki Maeda
Lyrics/Vocals: Junko Karashima
First Appearance: DanceDanceRevolution (2010) / DanceDanceRevolution X3 VS 2ndMIX
Length: 1:57
Unknown.
Song Connections/Remixes
Edit
ever snow is a slightly extended cover of ever snow by YOMA KOMATSU, which was removed on DDR X because BeForU left Konami.
An extended version of ever snow appears on TЁЯRA's album, RЁVOLUTIФN.
A portion of ever snow appears on the DanceDanceRevolution megamix.
ever snow's album art is actually the cover art for RЁVOLUTIФN.
The charts for ever snow are the same as its DDRMAX2 counterpart, albeit with more steps due to the fact that the cover is longer.
A new album art was made to replace the RЁVOLUTIФN cover art, because NAOKI & jun left Konami in early 2013.
Official Song Comment
Edit
Untranslated.
Difficulty & Notecounts
Edit
Game
SP Difficulty
DP Difficulty
Beginner
Basic
Difficult
Expert
Basic
Difficult
Expert
Notecounts/Freeze Arrows
105/0
141/7
290/5
447/7
141/6
271/8
371/8
DDR X3 VS 2ndMIX→Present
2
4
8
12
4
8
11
DDR 2010
☆3
☆4
☆7
☆9
-
-
-
Ad blocker interference detected!
Wikia is a free-to-use site that makes money from advertising. We have a modified experience for viewers using ad blockers

Wikia is not accessible if you've made further modifications. Remove the custom ad blocker rule(s) and the page will load as expected.