Not to be confused with New Decade.
Song Information
Edit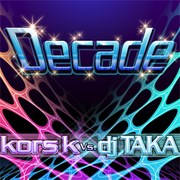 Artist: kors k Vs. dj TAKA
BPM: 148
Composition/Arrangement: Kosuke Saito, Takayuki Ishikawa
Video Type: Stage (X2→X3 VS 2ndMIX), Full (DDR II), None (DDR 2013)
First Appearance: DanceDanceRevolution X2
Other Appearances:
Length: 1:48
None.
Song Connections/Remixes
Edit
A full version of Decade can be found on kors k's album, Ways for Liberation.
Decade is the first collaboration between Kosuke Saito and Takayuki Ishikawa in BEMANI.
Decade is unlocked on DanceDanceRevolution X2 by reaching Enjoy Level 18.
In the arcade versions, Decade has a background video, but instead of being shown in fullscreen, it is shown on a stage with a monitor.

On DDR II, it is also present.

Decade is the final Stage 1 unlock song on DDR Dance Wars. The prerequisites for it to be unlocked are:

Decade's background video was removed from DDR (2013) due to technical issues.
Official Song Comment
Edit
Untranslated.
Untranslated.
Difficulty & Notecounts
Edit
Game
SP Difficulty
DP Difficulty
BEG
BAS
DIF
EXP
CHA
BAS
DIF
EXP
CHA
Notecounts/Freeze Arrows
84/0
164/11
228/24
282/23
-
168/8
221/15
306/17
-
DDR X2→Present
2
5
8
11
-
5
8
12
-
DDR II
2
5
8
11
-
5
8
12
-
DDR S+
2
5
8
11
-
-
-
-
-
DDR Dance Wars
2
5
8
11
-
-
-
-
-
Ad blocker interference detected!
Wikia is a free-to-use site that makes money from advertising. We have a modified experience for viewers using ad blockers

Wikia is not accessible if you've made further modifications. Remove the custom ad blocker rule(s) and the page will load as expected.