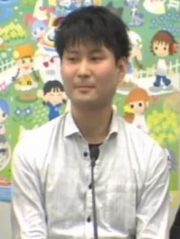 General Information
Edit
DJ TOTTO is a new artist who debuted in the JAEPO 2013 event, where it was revealed that he would compose the final unlockable song and final boss song of REFLEC BEAT colette -Winter-, Valanga. Since then, he has been a regular contributor to the REFLEC BEAT series.
Ever since REFLEC BEAT colette -Winter-, DJ TOTTO has composed the final boss song for each REFLEC BEAT colette season (with Valanga for Winter, chaplet for Spring, and 海神 for Summer).
Almost all of DJ TOTTO's songs are instrumental.
DanceDanceRevolution Songs
Edit
Ad blocker interference detected!
Wikia is a free-to-use site that makes money from advertising. We have a modified experience for viewers using ad blockers

Wikia is not accessible if you've made further modifications. Remove the custom ad blocker rule(s) and the page will load as expected.