Song Information
Edit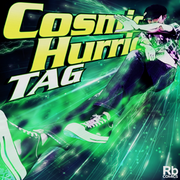 Artist: TAG
Composition/Arrangement: TAG
Genre: COSMO DRIVE (コスモドライブ)
BPM: 188
Length: 2:04
First Appearance: DanceDanceRevolution X3 VS 2ndMIX / REFLEC BEAT colette -Winter- / pop'n music Sunny Park
Other Appearances:
jubeat saucer
jubeat plus つぎドカ! Pack
REFLEC BEAT plus つぎドカ! Pack
None.
Song Connections / Remixes
Edit
A rock arrangement of Cosmic Hurricane, titled Cosmic Hurricane (GFDM ver.) and credited to TAG feat. Mutsuhiko Izumi, can be found in GuitarFreaks XG3 & DrumMania XG3. Unlike the original version, though, this version of Cosmic Hurricane is shorter.
Cosmic Hurricane is part of the BEMANI Linked Song Battle "Tsugidoka!" (BEMANI連動選曲バトル「つぎドカ!」) event, along with snow prism, 紅焔 and 恋閃繚乱. Cosmic Hurricane represents the DanceDanceRevolution X3 VS 2ndMIX side of the BEMANI連動選曲バトル「つぎドカ!」 event.
The TAG BGM in REFLEC BEAT colette -Winter- is based off of Cosmic Hurricane.
Another Phase, one of the boss songs from DanceDanceRevolution 2013, shares similarities with Cosmic Hurricane. Both songs were composed by TAG.
Both Cosmic Hurricane and 紅焔 appeared on the first location tests of pop'n music Sunny Park and REFLEC BEAT colette. However, both songs didn't appear when those games were released. Instead, Cosmic Hurricane and 紅焔 appeared on December 19, 2012, as part of the BEMANI Linked Song Battle "Tsugidoka!" (BEMANI連動選曲バトル「つぎドカ!」) event.
TAG himself appears on the album art, like with Diamond Dust and REVOLUTIONARY ADDICT.

Unlike Diamond Dust and REVOLUTIONARY ADDICT, it is a drawn version of TAG.

The Rb comics logo can be seen at the bottom right of Cosmic Hurricane's album art.
Cosmic Hurricane's Challenge chart was made available for play on December 26, 2012.
Cosmic Hurricane was added to jubeat saucer on February 1, 2013.
According to TAG, he initially was worried about this song's name being Cosmic Hurricane due to fears of sounding too similar to the song name Thunderbolt in terms of a song with a wind theme.
Difficulty & Notecounts
Edit
Game
SP Difficulty
DP Difficulty
BEG
BAS
DIF
EXP
CHA
BAS
DIF
EXP
CHA
Notecounts/Freeze Arrows
102/4
216/20
322/22
483/18
599/55
213/20
317/21
468/25
594/25
DDR X3 VS 2ndMIX
3
6
9
12
15
6
9
12
15
DDR (2013)→Present
3
6
9
↑13
15
6
9
↑13
15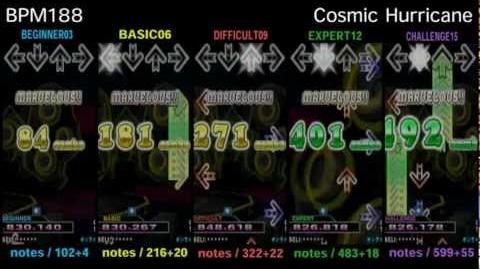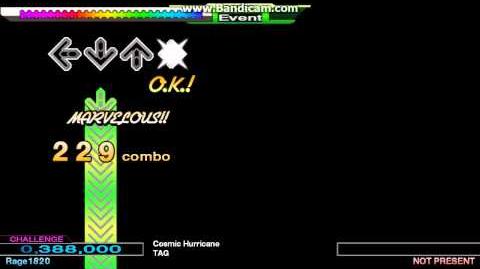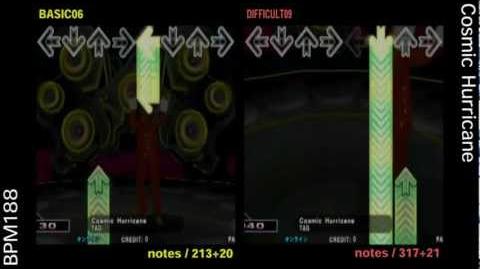 Ad blocker interference detected!
Wikia is a free-to-use site that makes money from advertising. We have a modified experience for viewers using ad blockers

Wikia is not accessible if you've made further modifications. Remove the custom ad blocker rule(s) and the page will load as expected.