Introduction
Edit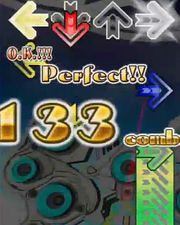 Classic is an arrow type option first used in pre-DDRMAX -Dance Dance Revolution 6thMIX- games. It is the same shape as a normal arrow except with a V-shaped snout on the back tip of the arrow. It was made into a usable arrow type option in DanceDanceRevolution X.
Arcade Releases
Edit
DDR 1stMIX→5thMIX
Edit
The Classic option was the only available arrow option.
DDR X→Present
Edit
The Classic option was added on DDR X as an unlockable arrow option, to celebrate the DDR series's 10th anniversary. In DDR X2 onwards, it is available by default.
Ad blocker interference detected!
Wikia is a free-to-use site that makes money from advertising. We have a modified experience for viewers using ad blockers

Wikia is not accessible if you've made further modifications. Remove the custom ad blocker rule(s) and the page will load as expected.