Song Information
Edit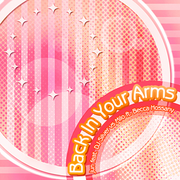 Artist: jun feat. DJ Silver vs Milo ft. Becca Hossany
Composition: Junko Karashima
Arrangement: DJ Silver, Milo
Vocals: Becca Hossany
BPM: 132
Length: 1:44
First Appearance: DanceDanceRevolution (2013)
None yet.
Song Connections / Remixes
Edit
None.
Back In Your Arms marks the first collaboration between three artists in the DanceDanceRevolution series.

Back In Your Arms also marks the first time Junko Karashima collaborates with a commissioned artist.
Back In Your Arms marks Junko Karashima's last BEMANI song to date.

Back In Your Arms also marks Becca Hossany's first song to debut in an arcade version instead of a home version game.
Back In Your Arms's comment was not written by either Junko Karashima, DJ Silver, or Milo. Instead, it was written by Yasuhiro Taguchi, who also wrote the comment for Naoki Maeda's You.

The fact that Yasuhiro Taguchi wrote the comment for Back In Your Arms confirms Junko Karashima's supposed departure from Konami.
Song Production Information
Edit
Untranslated.
Difficulty & Notecounts
Edit
Game
Single
Doubles
BEG
BAS
DIF
EXP
CHA
BAS
DIF
EXP
CHA
Notecounts / Freeze Arrows / Shock Arrows
73 / 0
151 / 10
236 / 8
302 / 10
- / - / -
144 / 9
236 / 8
300 / 10
- / - / -
DDR (2013)→Present
2
5
8
10
—
5
8
10
—
Ad blocker interference detected!
Wikia is a free-to-use site that makes money from advertising. We have a modified experience for viewers using ad blockers

Wikia is not accessible if you've made further modifications. Remove the custom ad blocker rule(s) and the page will load as expected.