Song Information
Edit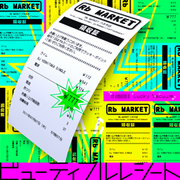 Artist: Lucky Vacuum
BPM: 196
Composition/Arrangement: Lucky Vacuum
Genre: HAPPY HARDCORE
First Appearance: DanceDanceRevolution X3 VS 2ndMIX / REFLEC BEAT limelight
Other Appearances:
beatmaniaIIDX 19 Lincle
jubeat plus REFLEC BEAT pack 2
REFLEC BEAT plus Music Pack 18
Length: 1:48
Shouts of "Go!" and an unknown voice sample can be heard.
Song Connections/Remixes
Edit
None.
ビューティフル レシート is available by default in DanceDanceRevolution X3 VS 2ndMIX, unlike in REFLEC BEAT limelight and REFLEC BEAT colette, where ビューティフル レシート has to be unlocked.

Coincidentally, both DanceDanceRevolution X3 VS 2ndMIX and REFLEC BEAT limelight were released at the same time, with both games being released on November 16, 2011.

ビューティフル レシート was a preliminary round song in the KONAMI Arcade Championship 2012 event for REFLEC BEAT limelight.
ビューティフル レシート marks DJ YOSHITAKA's first use of his Lucky Vacuum alias in the DanceDanceRevolution series.
On the receipt found in ビューティフル レシート's album art, the following can be seen:

The shop's name (Roppongi RB Market)
The web address of the official website for REFLEC BEAT.
"Thank you for purchasing!"
The list of purchased items: lime (112 yen), DJ YOSHITAKA Single (541 yen), and three lightbulbs (124 yen), which total to 777 yen. 777 is a lucky number, referencing the artist's alias.

According to DJ YOSHITAKA, ビューティフル レシート was originally supposed to run at 145 BPM. However, it was too slow, and so it was sped up to 196.
Official Song Comment
Edit
Untranslated.
Difficulty & Notecounts
Edit
Game
SP Difficulty
DP Difficulty
BEG
BAS
DIF
EXP
CHA
BAS
DIF
EXP
CHA
Notecounts/Freeze Arrows
119/0
220/46
290/52
362/50
-
203/37
282/52
346/50
-
DDR X3 VS 2ndMIX→Present
4
8
10
13
-
7
10
13

-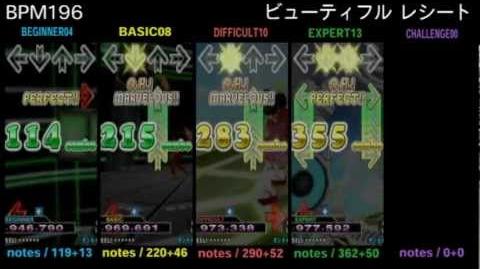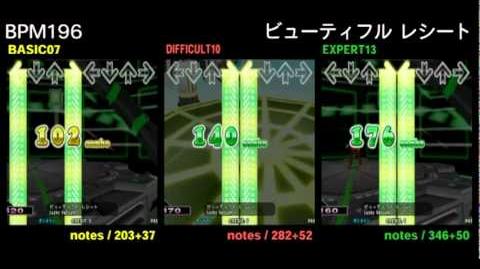 Ad blocker interference detected!
Wikia is a free-to-use site that makes money from advertising. We have a modified experience for viewers using ad blockers

Wikia is not accessible if you've made further modifications. Remove the custom ad blocker rule(s) and the page will load as expected.