Song Information
Edit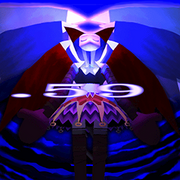 Artist: dj TAKA
Composition/Arrangement: Takayuki Ishikawa
BPM: 135 (110-135)
Length: 1:45
Genre: CHILL OUT
First BEMANI Appearance: beatmaniaIIDX 2nd style
First DDR Appearance: Dance Dance Revolution 4thMIX
Other Appearances:
DanceDanceRevolution Classroom Edition
None.
Song Connections / Remixes
Edit
.59 is pronounced as "tengoku," which is the Japanese word for "heaven." The "." is "ten", 5 "go", and 9 "ku".
Devil-Zukin appears in .59's banner, background, and album art.
Difficulty & Notecounts
Edit
To be updated.
Ad blocker interference detected!
Wikia is a free-to-use site that makes money from advertising. We have a modified experience for viewers using ad blockers

Wikia is not accessible if you've made further modifications. Remove the custom ad blocker rule(s) and the page will load as expected.